Aug2018
River Canyon Bends of the Southwest
#212 River Canyon Bends of the Southwest
In recent years photographers have begun to be very interested in the twists and turns of the rivers of the Southwest. One photographer even does a tour which visits several of these big river bends. I've always found these places captivating and wonderfully photographable, and I've created a list of the some of the best with some hints on the best way to photograph them.

COLORADO RIVER
Horseshoe Bend near Page, Arizona was on nobody's radar twenty years ago (except the great Gary Ladd) but it is now a must for most photographers visiting the Page area. My friend Laurent Martres gives great information on how to photograph this spot in his Photographing the Southwest, Arizona edition. In general, this is is a morning shot for a wide angle lens, and it helps if you are not bothered by heights. Also, the spot is now heavily visited. Off-season visitation is highly recommended and parked car invasions do happen.
Close to Moab, in a spot we visit often with Tom Till Tours, is the Gooseneck of the Colorado River, which can be seen far below at Dead Horse Point State Park. Meander Canyon downstream from Moab, Utah has a couple of the finest twisty river locations. Formerly part of Bears Ears National Monument, which was taken away by executive order, its fate is now in limbo. The bend is similar to Horseshoe, except you are closer to the river, and it takes the 11mm Canon lens or a fisheye to get it all in. I think September and October dawns are the best times to shoot this spot, because the sun is not blocked by the huge wall of Dead Horse rising in the northeast. Also, at this time of year, the river is likely to be low and calm and able to nicely reflect dawn clouds. Afternoon and evening shooting here can be quite good, but the sun goes down fairly early behind the high cliffs of Canyonlands National Park except in late fall and winter. The Gooseneck of the Colorado is also a great drone or airplane subject.
Further down Meander Canyon is the amazing Loop in Canyonlands National Park. Though it can be reached on a jet boat or raft trip, it is best photographed from an air tour where its two almost identical loops are most easily seen and shot.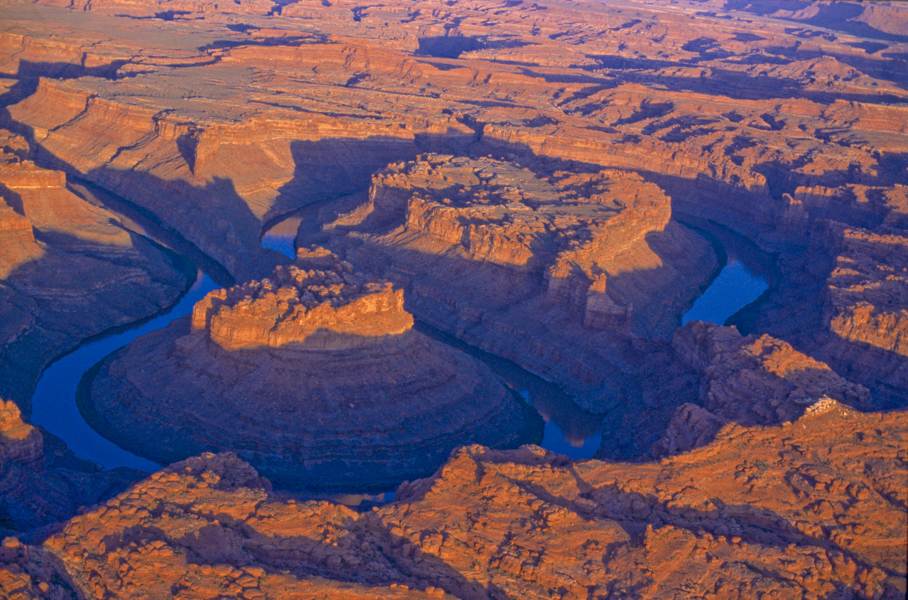 Tatahatso Point, a huge bend in the Colorado River in Grand Canyon can be visited from the Navajo Reservation. Laurent also gives directions to this amazing viewpoint in his Arizona book.

SAN JUAN RIVER
The most spectacular kinked up river of all is the San Juan at the San Juan River Goosenecks near Mexican Hat, Utah. With three bends, the Goosenecks, which are easily accessible by car and are a Utah State Park, are most easily shot in a stitched panorama, or from the air. I love shooting the Goosenecks in winter, when the snow, though rare, really brings out the heavily tiered cliffs of the river canyon. This is one location where I've had good luck shooting in mid-day.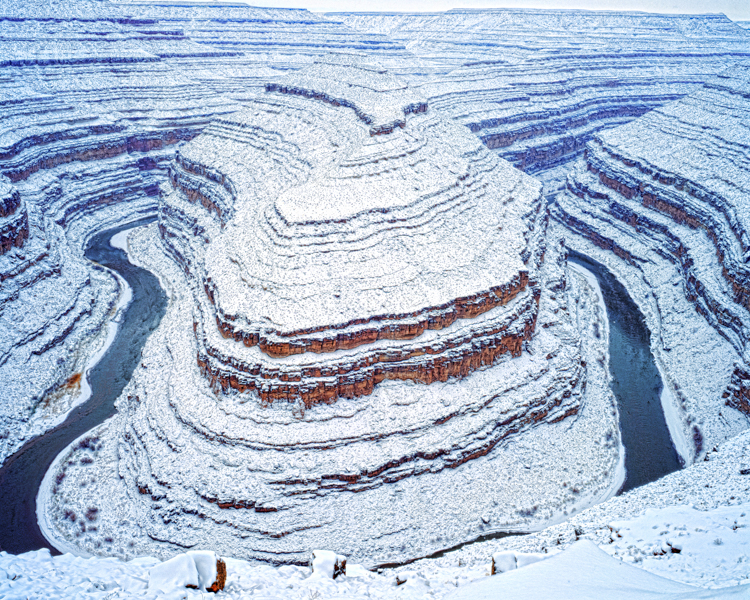 GREEN RIVER
Only really easily shot from the air, Bowknot Bend west of Moab on the Green River in Labyrinth Canyon takes the water on almost a complete circle back on itself. In millions of years, the tiny peninsula between the two rivers will break through and leave the Bowknot as an abandoned meander. Sunrise is my favorite time to shoot the Bowknot, and it's not too far to the Moab Airport where you can charter a plane or helicopter. Labyrinth Canyon is also a favorite calm water boating stretch where you will pass right through the Bowknot. It is possible to climb up high here and get a view, but only an aerial photograph can show the true nature of this stunning feature.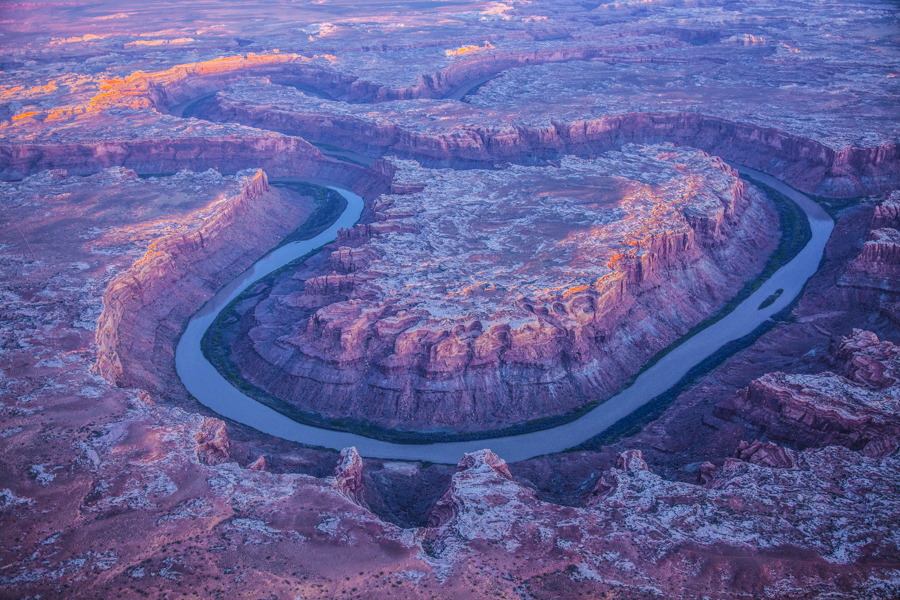 A smaller version of the Bowknot, and upstream from it, is the Trim Alcove Bend, named by Major Powell on the first expedition through these rivers. Aerials of this bend are nice, but you can also shoot it from ground level. A road to the rim above the bend comes in from the west, but for the last mile you will need a good 4 wheel drive vehicle. Walking also works. This would be mainly a sunset shot.
I discovered a great bend shot on the Green River early in my career where the Green River curves around the Turk's Head. The view of this can be attained by walking from the White Rim Trail about a half mile towards the river. My first attempt at the shot was done with the only wide angle I had at the time, a 21mm Olympus lens. It wasn't wide enough to get the whole thing, so I returned years later with a 58mm on a 4×5 camera, about equivalent to 15mm on 35mm format.
The Green River in Northeastern Utah has a number of bends before it enters Desolation Canyon, and there are some road accesses. This whole area, which begins south of highway 40, is a great drone location. Upper Desolation Canyon also has some amazing twists. I have looked for good places to stop and shoot them on river trips, but haven't found any easy places to break through the thick riverbank trees and brush. Hiring a plane in Vernal and flying down to that area would be the easiest way to shoot these amazing gestures of nature.
DOLORES RIVER,
The Dolores River in Slickrock Canyon has a couple of major twists, including one called the Muleshoe Bend. With good gps and map work, it would be possible to drive and hike into the area above this bend, but the river rarely has enough water to show up very well. With the drought in the West, it's hard to tell when it ever will.
Follow Tom on his next globe trotting adventure as he heads to: