Sep2018
Niagara Falls in Winter
#216 Niagara Falls in Winter
Niagara Falls, although thoroughly tamed by dams and surrounded on all sides by hotels, is still the falls all others are compared to. It's not particularly high, but it is huge. After this hot summer and early autumn, thoughts of Niagara when it freezes up are welcome, and it is in deep winter that I think the Falls are at their most spectacular. Without the hordes of people, the frozen torrent is transformed into a temporarily magical "frozen" spectacle. I went in late February of a very cold year, but January with shorter days would be even better. You will want to watch the weather for Buffalo, New York, and plan on going when at least several days of subzero temperatures are forecast. Snow is not always necessary and it may even be warmer when it snows, so very cold clear days are best.
Niagara Falls State Park has two main viewing areas in winter. Although the trails are very safe, care should be taken to only approach the falls on paths which have been cleared and which have guardrails. The main viewing point of American Falls is a good westerly view and works well for morning. One thing that is really beautiful here are the ice-covered trees flocked by the constant ice masquerading as mist. The westerly viewpoint requires driving over the river and shooting the other direction. In winter there is good side-lighting from the south here.
I have not gone to the Canadian side except to take aerial photos. The Canadians have a heliport that is a great option for winter images, and I think those pictures really tell the story of the crazy ice formations made by the waterfall after a cold spell. The Canadian Falls are also less appealing to me because they face south, melt more quickly, and freeze more slowly than the American Falls. I have seen drone shots of the frozen falls, but I don't know if New York state parks allow it or not. With all the blowing frozen mists, perhaps the helicopter is still be best option.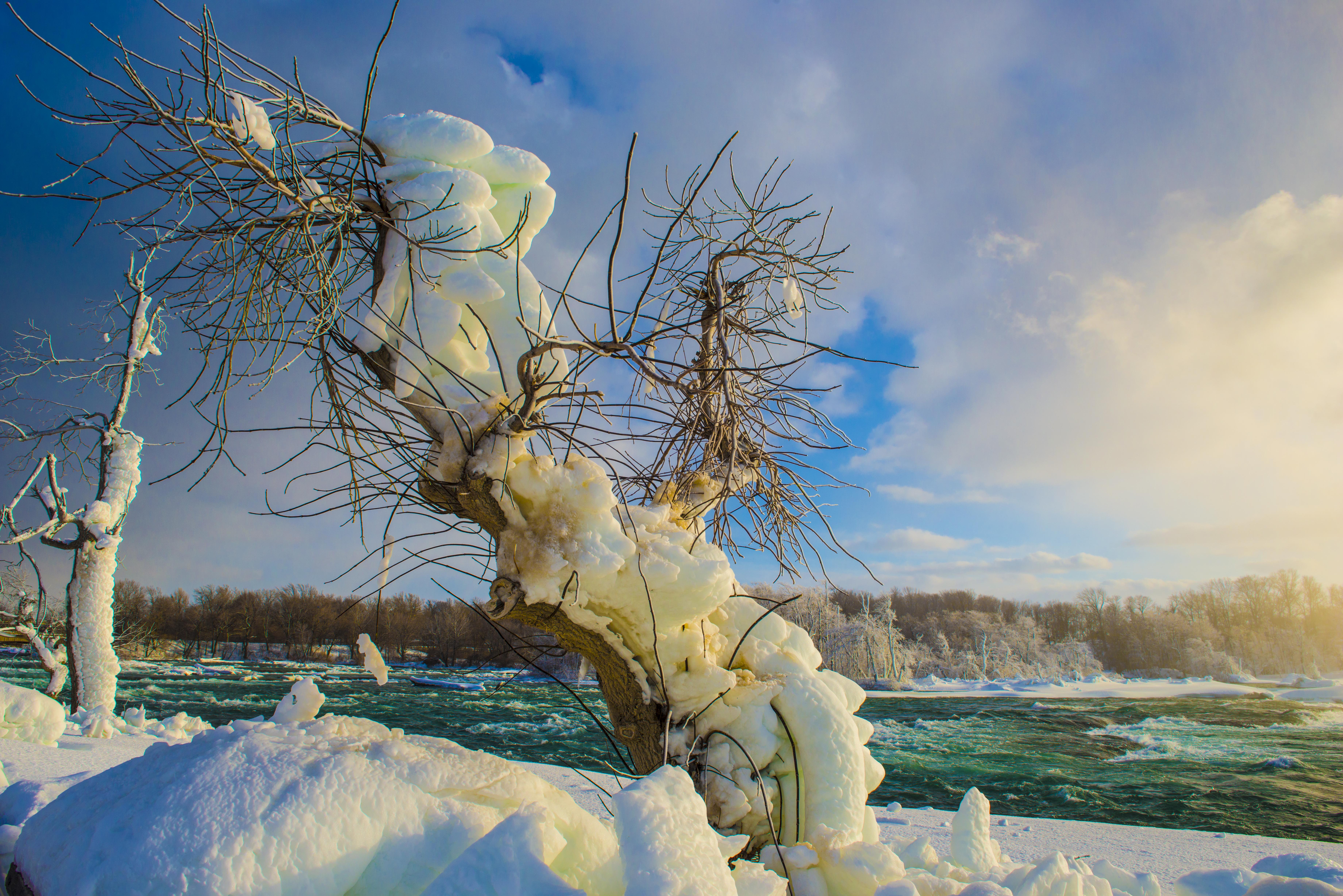 Follow Tom on his next globe trotting adventure as he heads to: