May2019
The Missouri River, U.S.A.
#252 The Mississippi-Missouri Rivers, U.S.A. Part I, The Missouri River
Crossing a length of 3,710 miles with the two rivers combined, this system is the fourth longest in the world and crosses many states. I will mention here some of the best viewpoints and nearby photo subjects for shooting the rivers along their courses.
The Missouri River
I grew up about 14 miles from this river and I remember camping along it as a cub scout. Later on the Winnebago tribe opened a casino there, and I sadly missed a performance by my heroes The Everly Brothers there. Tornadoes were almost a yearly occurrence, and in 2019 nearby towns were flooded in the spring.
Starting off in Montana, Missouri Breaks National Monument is an amazing geologic wonderland. Most people see the Breaks along the river by canoe, and there are several sections to run. Nearby towns offer jeeps for rent to drive into the rim view areas for top down views. Unfortunately one of the most photogenic natural arches in the West was destroyed by vandals here, or as some have claimed, by natural weathering. Other arches are still there, and make great subjects.
Lower down on the Missouri, there is a beautiful view of Nebraska, Iowa, and South Dakota from Ponca State Park in Nebraska. Fall is really great here with some good fall color and fog lifting from he river waters. This is very close to where I grew up, as is Indian Cave State Park also in Nebraska. Snyder Bend Park, south of Sioux City, has wonderful displays in the summer of Joe Pye Weed with deep pink blossoms.
Closer to Omaha and accessible from the Iowa side of the Missouri is a place I shot some of my first landscapes: De Soto National Wildlife Refuge. Perhaps most beautiful here, and the source of an image of mine that was made into a U.S. postage stamp, are the American lotus blooms. I got quite a shock when I shot the curled up blossoms before dawn the first time, and then had to reshoot everything once the sun hit the same flowers, causing them to unfurl in seconds almost like magic. The huge flowers with a dozen or more petals several inches long are among the most spectacular wildflower displays in America, and only known by a few.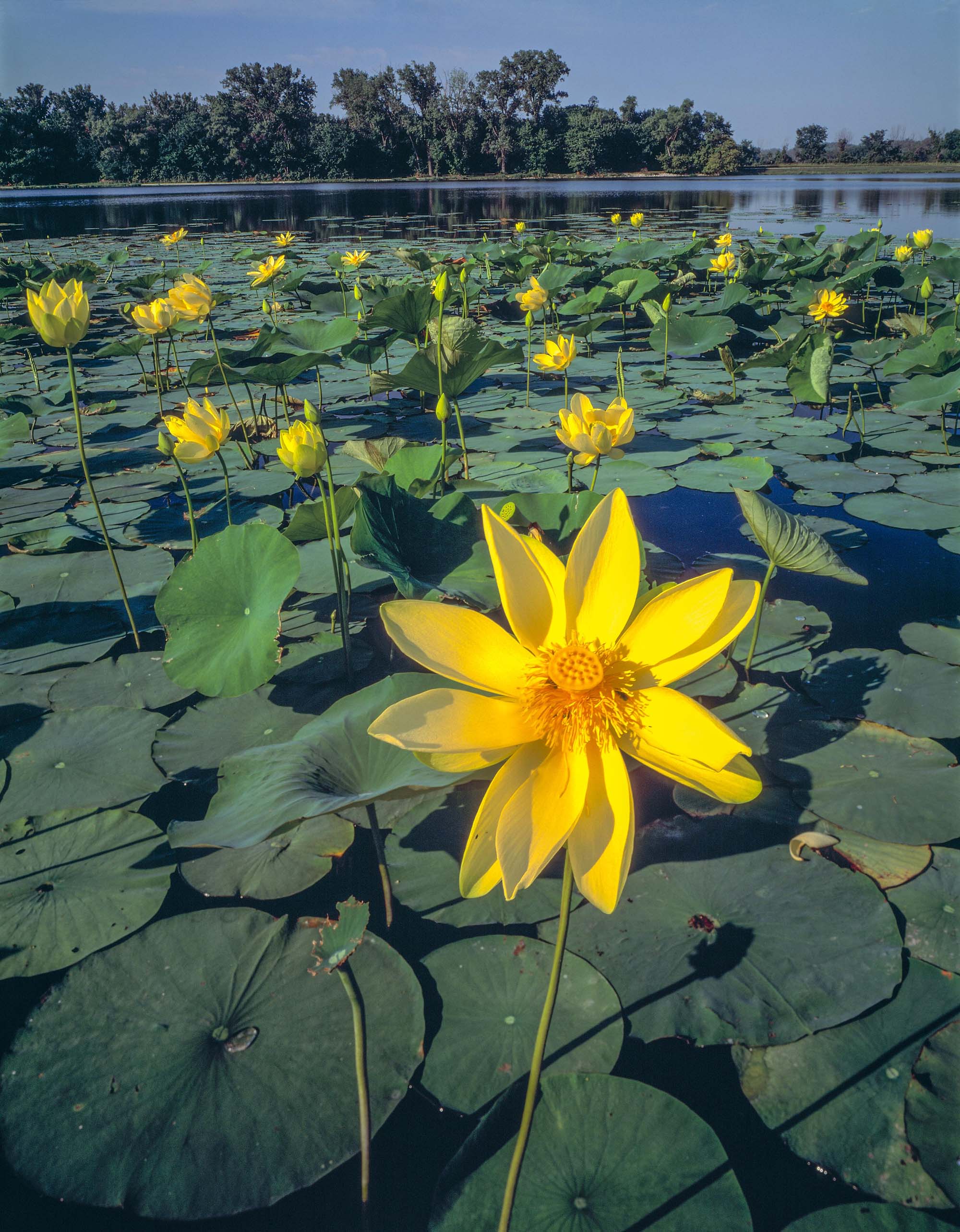 Where will Tom head next? Check back next Friday to find out.