Sep2019
The Faroe Islands
#257 The Faroe Islands
Close to Iceland and Scotland, the Faroe Islands are a group of beautiful far north pearls in the North Atlantic. A number of flights a day reach the area, which only has 50,000 residents. Bring money, as the Faroes are mostly associated with Denmark and Denmark prices are high. A car is very expensive but necessary, and like everything else must be booked in advance, especially in spring, summer, and fall. Take clothes for cool to cold rainy weather. On the one long hike I did, I had three layers and didn't take any off, and this was on a sunny but windy day in July. I spent most of my time on Vagar and Streymoy Islands which are also home to the airport and the biggest city of Torshavn. Although weather and cancelled ferries between islands prevented me from doing everything I planned, I did hit most of the highlights.
First on the list has to be the hike and Escheresque view of the Lake and the Ocean on the island of Vagar. The hike starts near the town of Sørvagur, just east of the airport, and a guide is recommended. After the parking area there is a pay station. In summer when weather is good, it's a busy place. A two mile walk along the trail brings you to the view, a spot on the top of a pointy cliff above a large lake with the ocean on both sides. The locals call it Slave Point. It's hard to tell what is what and seeing the lake so close to an ocean is disorienting. Although sunrise and sunset might be great here, shadows might kill the effect and mid-afternoon worked best for me.
Other highlights, all on Vagar, are the Mulafossur Waterfall with the Southwest looking butte and small village beyond. The water pours right into the ocean, as do many other waterfalls on these islands. I have not seen this phenomenon occur so often anywhere in the world but here.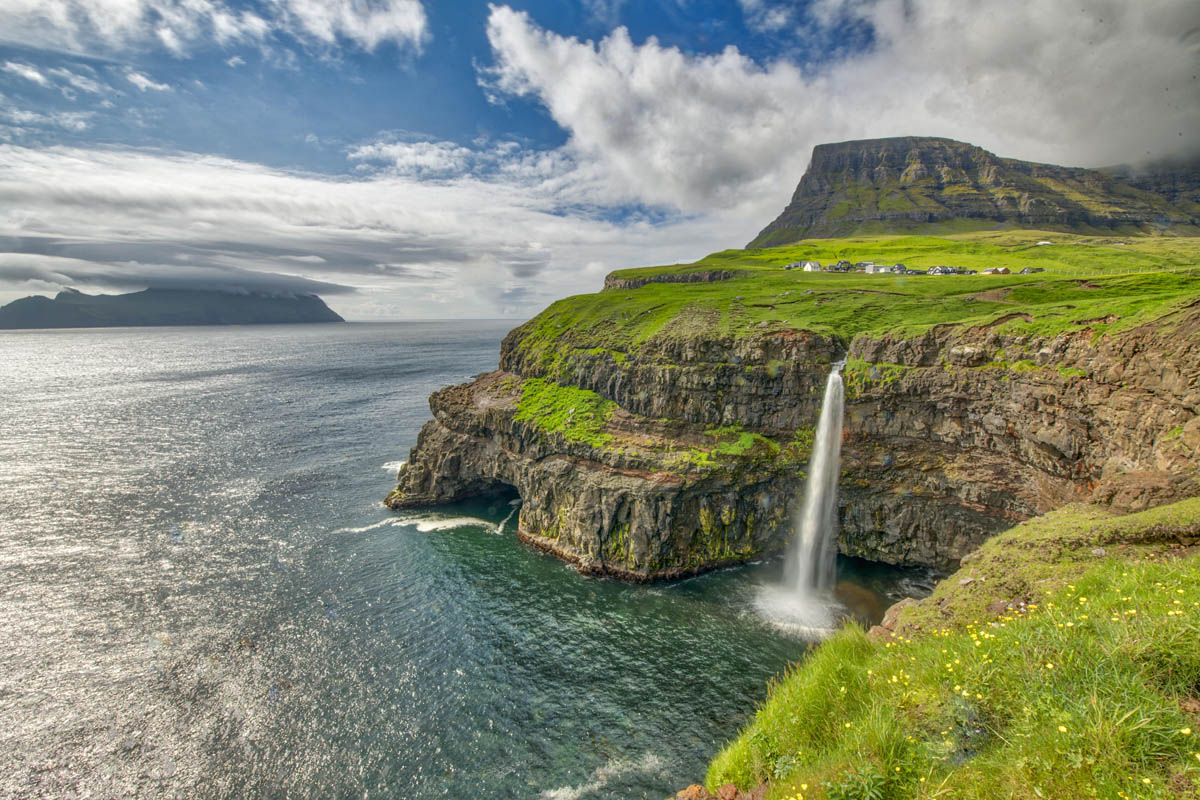 Finally, as an arch lover, I took a boat ride over to the sea stacks of Drangarnir with a beautiful sea cleft in the sloped top island.
Where will Tom head next? Check back next Friday to find out.